Here's our regular Q Family News -- a quick rundown on us and our family. Our PICTURES are on our PHOTO site, where you can find Albums of family and ministry, and you don't even have to log in! Click here and Enjoy!-->  http://www.clayq.smugmug.com/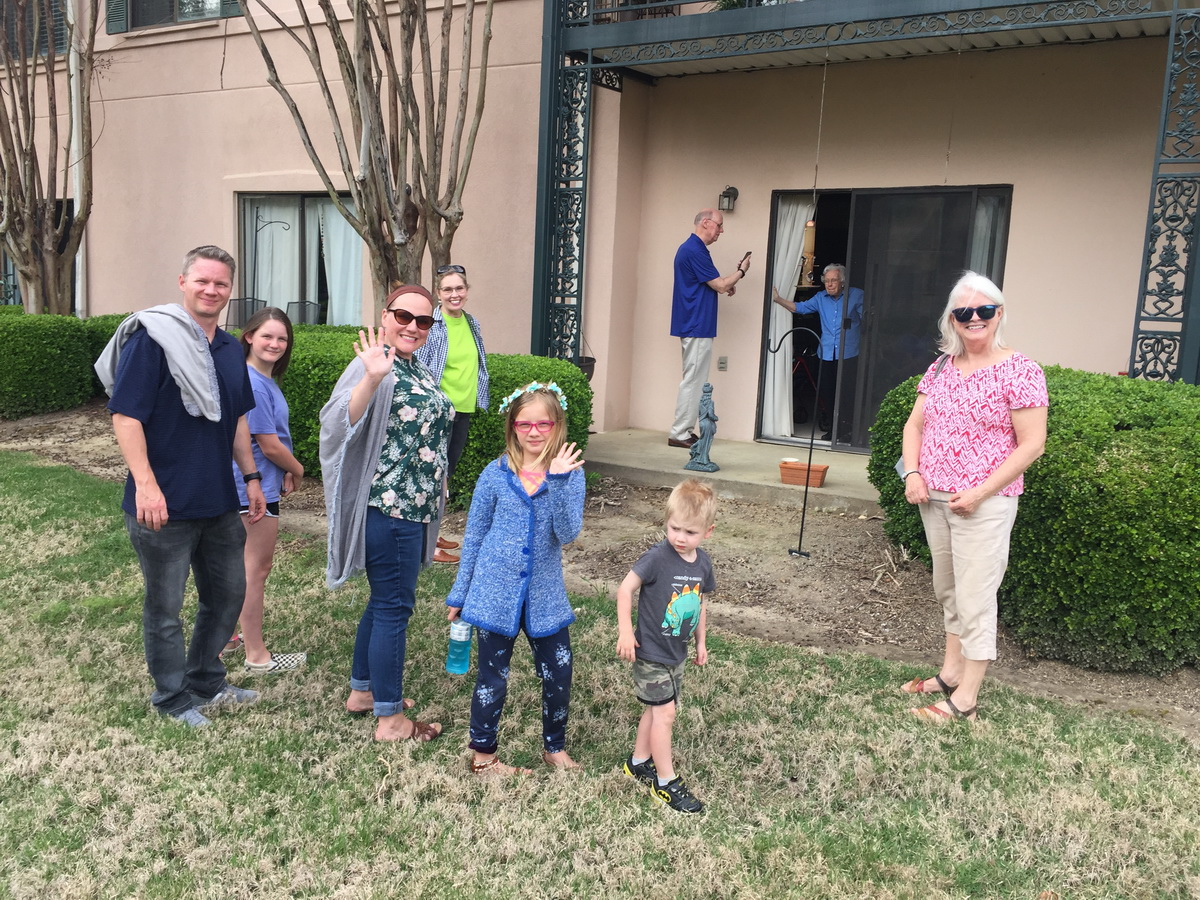 Quarantine Update Spring 2020
We're so glad to see spring, but it is so odd to be housebound during the Coronavirus outbreak. Thankfully, we aren't under lockdown, but we are being cautious – for ourselves and others.
Clay's Mom, Jackson, MS
March 19th was Mom's 97th Birthday, so we just HAD to have a Party! However, since we'd been out-of-state to a missions conference, we couldn't go in. So we had a Party – by extension! We stood out in the courtyard and ate cupcakes and ice cream, sent her balloons and flowers, and sang Happy Birthday.
Darlene
Darlene has been gardening and doing yard work in Nate's yard. But she has also been in a clean-out challenge with a good friend in Seattle, taking on a huge new project every week. We are SO glad to see spring here! And it is beautiful in Jackson, with Azaleas and Dogwoods and all sorts of flowers in full bloom by mid-March!
President Clay
Clay resigned as president of the seminary… only to be elected President of our HOA! And dealing with neighbors is much more complicated than expected. Darlene says this is our new mission field.
We had serious flooding in Jackson in February – the worst since 1979, and it came to within 100 yards of our condos. It was especially a concern, since Clay had to make calls about evacuation, being president of our HOA. So, we were carefully watching river levels and praying! God was gracious.
Grandkids
With this beautiful weather, we just had to get out of the house. This week, we took our 3 grandkids fishing at Twin Lakes Retreat Center, where each person managed to pull in a fish – even 4-year-old Logan. But none of them wanted to touch the fish, so that's the goal for our next trip – unless we're told to shelter in place.
Details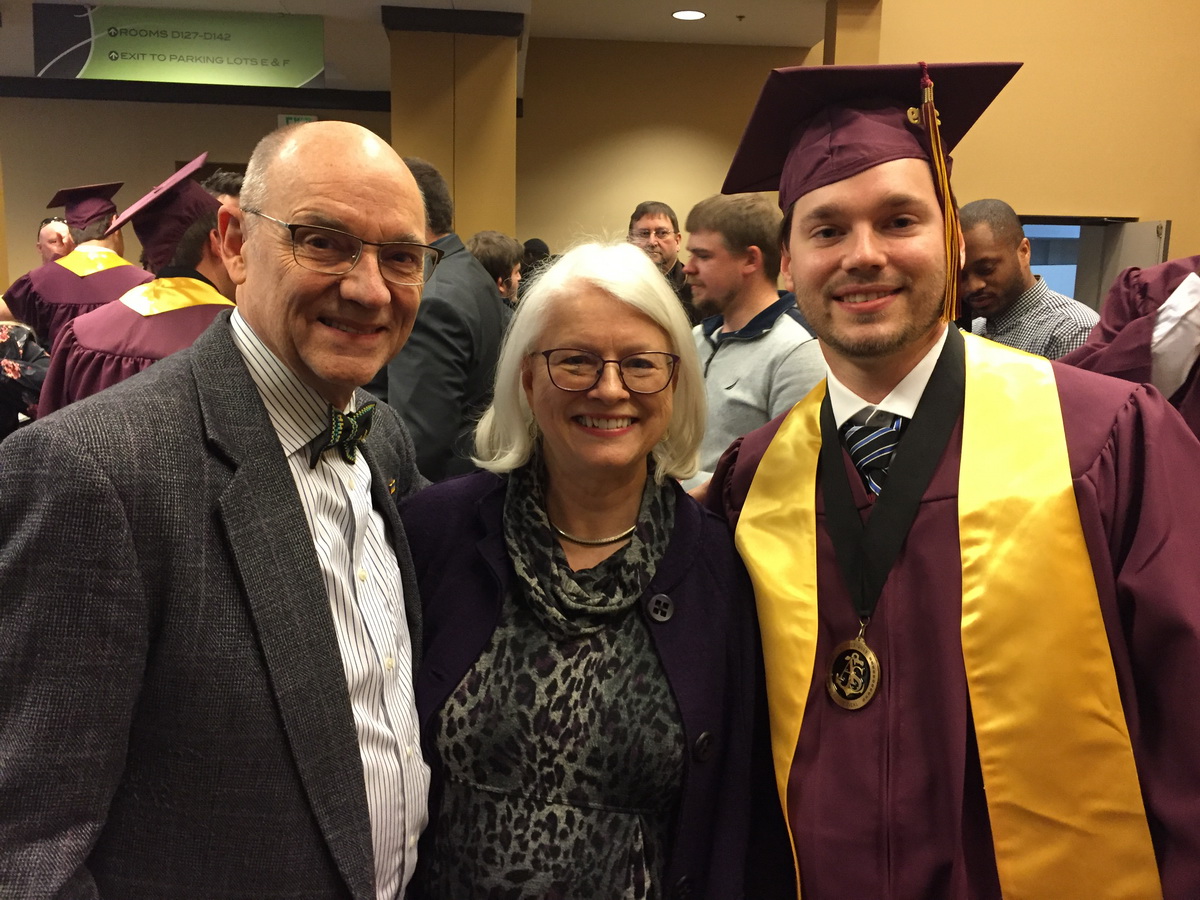 Our children and grandchildren:
Our children are all in the same place as before, and life goes on, even during the Coronavirus. We're glad that we're all safe and at least in the same country, now!
Tyler and Irene, Newport News, VA
In February, we drove from Mississippi to Virginia to see Ty graduate in The Apprentice School -- with Honors! We were very proud. He continues to work in the Engineering Department of Huntington-Ingalls Shipbuilding. His wife Irene enjoys her work in a public school as receptionist.
Lex, Los Angeles, CA
Lex still loves Los Angeles. During the Coronavirus lockdown, he and his roommates are all working from home, and getting to know one another! We finally got to visit him last year, and we enjoyed understanding the public transportation system, the distances, and the great people in his life. We even got to see where he practices bodybuilding and flying trapeze! In addition to his day job, Lex acted in "Shedding", a film about a cat person. Literally -- a cat in a person's body. He has appeared at several film festivals where the film was being featured.
Nate and Malaika, Jackson, MS
Nate got a new job in December as a salesman for a Toronto firm, and is doing well. His most recent client is Mountain Dew! Nate's wife Malaika was Jackson's Teacher of the Year last year, and her theater students have won various state and regional competitions. We've enjoyed attending several of her plays. Their kids are actors, too – in Mississippi's professional theatre, New Stage.
Matt and Erin, Seattle, WA
Erin is now a full librarian, having completed her Masters. Matt continues his work at Apple, and is in his ideal position there. We loved going to visit them a year ago, seeing the beauty of the Seattle area.
Details
To Retire is Not to Retreat
Can a missionary RETIRE?
It's funny that we don't ask that question of a Christian plumber or lawyer, but we balk to use the term for pastors and missionaries. Of course, we can retire! But we can't retreat, for the Kingdom marches on.
However, we do need to redefine our calling, taking into account our own physical and mental limitations. It is a time of serious transition, and we've approached it gradually and prayerfully for years, preparing other leaders and passing the reins of leadership to them.
Sailing home
Since one-way tickets were ridiculously expensive, we found a much better and cheaper way to travel – by ship!! We sailed from Europe to Miami, giving us time to grieve our loss, to wind down from our busy life in Ukraine, and to gear up for Stateside living.
It was special that we had a one-day stop in the Azores in the mid-Atlantic, for it is a part of Portugal! It was a joy to speak some Portuguese and enjoy that familiar cuisine from our 14 years of Portuguese ministry at the beginning of our missionary service, starting in 1979.
However, in our first week home, Clay tore his bicep while doing some yard work. This not only necessitated surgery but a long recovery that slowed our itineration. Clay's mother also needed to be moved, and we were elected to handle distribution of her household goods among the family – quite a chore! Yet, we traveled as much as we could, and we made several trips back to Ukraine for teaching and for dedication of our seminary building. Darlene, too, had surgery, so our planned 6 months "winding down" stretched into two years of busy itineration and ministry.
During this time, we visited ONE HUNDRED churches and supporters! We are thankful to those who prayed for our safety and health during this busy time – the Lord has answered marvelously!
After we retired December 31, 2019, Clay had knee surgery, slowing us down again. In March, we were invited back to MTW for a luncheon, where we were honored by the denominational Committee and the office Staff. It was a blessing to see a number of old friends there, and to give God the glory for His faithfulness in many years.
Retirement – What now?
We aren't the only ones! We've connected with a group of retiring missionaries – The Old, Wise, Learned Saints (OWLS).
It's a blessing to be near Clay's mother and our grandchildren in Jackson, MS. But, just as we were hoping to stay home a bit, we HAD to stay home, due to the Coronavirus Quarantine!! It is indeed a strange time for us.
Clay has been able to go fishing a few times, which he has enjoyed. Darlene has enjoyed some gardening at our home and our son's home. We're taking time to organize our home, to read, to keep up with friends on the internet and by phone. Yet, we still can't figure out our "new normal".
Clay was planning to fly to Kiev in May to teach a course in ERSU Seminary – but that is now on hold. We've had to cancel various speaking engagements: a series of missions conference keynote speeches, a Boy Scout Eagle ceremony speech, a seminary missions meeting, retreats, etc. Are we to STOP?!
Passing it On!
But there's something new afoot. Clay was invited to preach in the RTS-Jackson chapel service last month. And he has now been invited to teach 2 courses at RTS-Jackson in fall: missions and evangelism. Reformed Theological Seminary is where Clay earned 2 degrees, so it holds a special place for us, and we are thankful for the opportunity to connect with the New Generation of leaders in the Church.
Please keep on with us – for Ukraine, for Portugal, for ERSU Seminary, for RTS Seminary, and for the Gospel to go throughout the USA and to the Ends of the Earth, until Jesus comes!
A good friend of ours passed away recently – Dr. James Baird. He was one of the Fathers of the PCA. The last sermon he preached was in Clay's mother's retirement home, where he had served several years. As Clay preached there March 1st, he was aware of stepping into large shoes. Jim went until he dropped, preaching the Gospel.
Another friend and mentor, Dr. Don Patterson, also a Father of the PCA, retired and became Pastor At Large to our missionaries, traveling constantly. Even after getting cancer, he kept going. His final mission trip was to our home in Odessa, Ukraine. He went until he dropped, preaching the Gospel.
What great examples! Retiring may mean slowing our pace, but it is No Retreat! As long as we have life and breath, let us Press On!
Details
The Q's are coming home for a year of fund-raising for ERSU seminary. We'll be living in Jackson, MS, and we are available for many mission events. We look forward to seeing you as we travel!
However, we will also be missing our brothers and sisters, students and colleagues in Ukraine. This is what we call being "glocal" – both global and local – and it hurts! We are indeed blessed by so many friends around the world, but the limitations of our locality are only partially dissipated by email, video calls, and social media. The reality is that no one can be in two places at one time! – No one except the Holy Spirit!
It is a blessing to know God is the same, wherever we are, and that he is with our distant family and friends, binding us together in Christ. My grandfather held family prayer every night, and he used to tell me he would "meet me at the Throne". This is our great comfort, that we enjoy unity in Christ, unity even with my grandfather, who is now with his Savior.
I recently heard a long interview with my grandfather, recorded in 1987, where he told the story of his life and faith. It was just like a visit with him. But it was incredibly bittersweet. I also felt the distance in time and space from him, from family, from believers we left in Portugal, from fellow missionaries, and from supporting churches and friends. We are simultaneously linked in unity – yet often separated in space, and sometimes separated by death! Yet, the hope of eternity is our comfort.
Details
Here's the latest news of our children and grandchildren: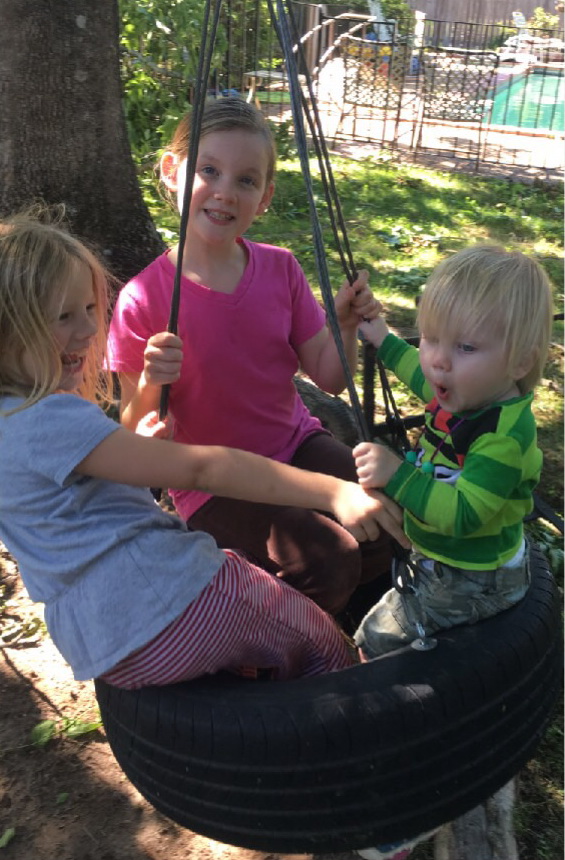 Lex continues to love Los Angeles. He became a deacon in his local church and leads a small group. He also continues studying trapeze (even FLYING TRAPEZE – YIKES!). This summer, he also took part in a bodybuilding competition. We've never been to visit him there, so we hope we will get out there during this HMA.
Nate continues doing well at work in Jackson, MS, and his wife Malaika continues as a favorite teacher in the magnet school of the arts. We are excited that we'll be living near them – to make up for the past year and a half of their lives that we have missed. We're especially anxious to get to know little Logan, who was 6 months old when we left!
Tyler continues making progress in the Apprentice School while helping build submarines and aircraft carriers in the port of Newport News. His wife Irene got a job in a public school office.
Matt and Erin continue working in Seattle, enjoying their jobs and singing and playing in their church praise group. We can't wait for the next album of their group "Star Called Sun"! We're proud of Erin's work there as a librarian.
We're blessed that Clay's mother is still active at age 94, supporting many activities in her retirement community. She attends church in the Presbyterian worship there with our friend Dr. Jim Baird, but she misses her home church. We look forward to taking her to worship some of the time.
Details