Several of the Ukrainian Presbyterian churches held their own summer camps for outreach this year. Two Kiev churches organized separate camps, and they sent members to southern Europe to train in church planting. The vision is catching!
MTW held their "LEAD" conference in Greece this year, with 250 leaders and national partners from all around the globe. Clay Quarterman, Jon Eide, Bob Burnham, and Doug Shepherd attended as the MTW leaders from Ukraine, and it was a great encouragement with new vistas for worldwide connections, international cooperation, and growth. We will need your help to attempt such great things for God's glory!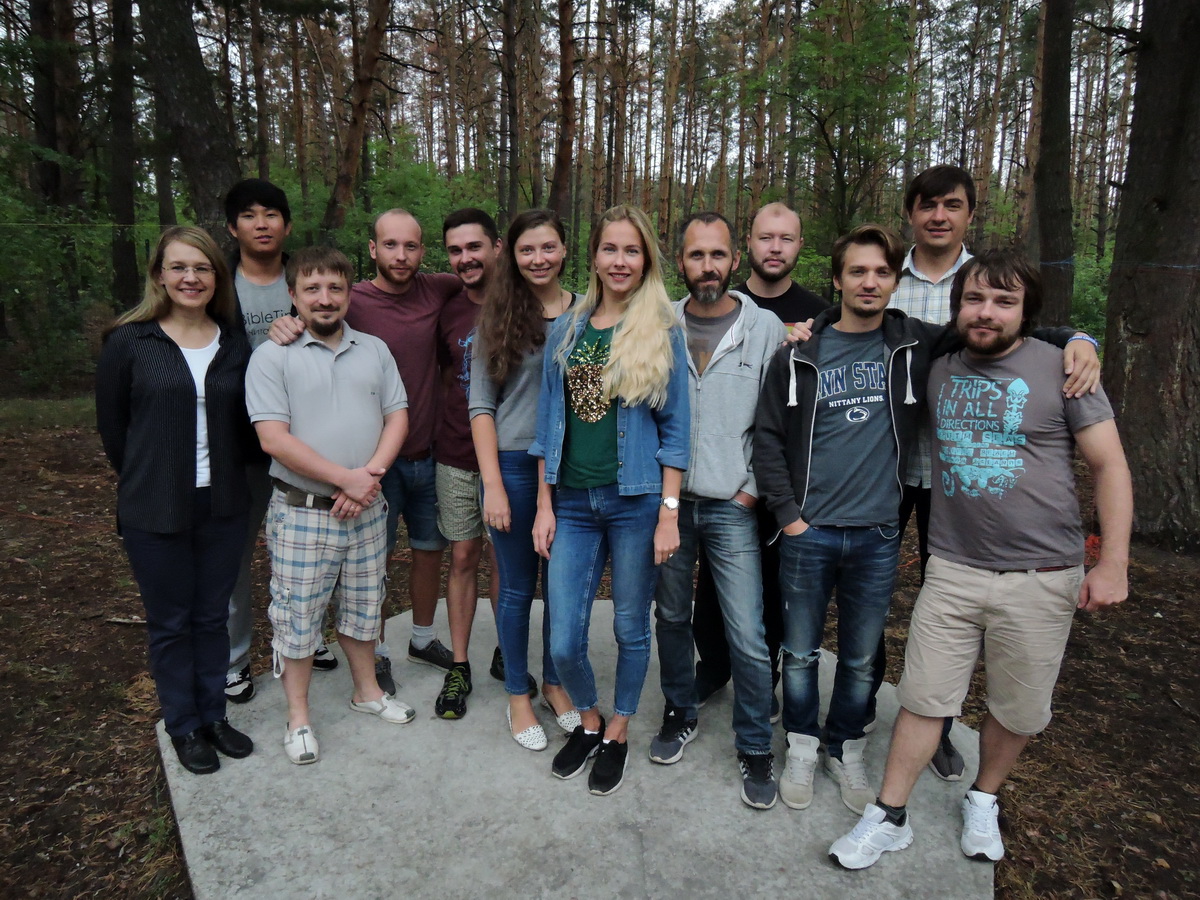 Details
Regarding the Conference where Clay spoke Sunday, R500 Nikolaev posted:
"A practical conference was hosted in Nikolaev which celebrated the 500th year of the Reformation, and noted its relevance in today's world.
"Special guests, politicians, scientists, and preachers focused on the Reformation's importance for our lives. It was necessary 500 years ago, and today it has not lost its value for society.
"Pavlo Yakimovich Unguryan, chairman of the organizing committee, Member of Parliament of Ukraine, stressed that the Church needs revival, renewal, and to intensify its work in society.
"Taras Dmitrovich Kremin, Member of the Parliament of Ukraine, said that schools and a university education based on Christian upbringing is not a vestige of the past or just a whim, but a real need today, both in Ukraine and in the world at large.
"Various issues were addressed: freedom of conscience (Ludmila Alexandrovna Filipovich, PhD), the impact of the Reformation on social processes in its historical context (Maxim Balaklytsky, PhD in Communications) and how the Reformation has influence today (Clay Quarterman, PhD).
"Overall, the event was attended by over a thousand people, representatives of different faiths united for a common goal: to understand the importance of the Reformation, and that its development and impact depends on each of us."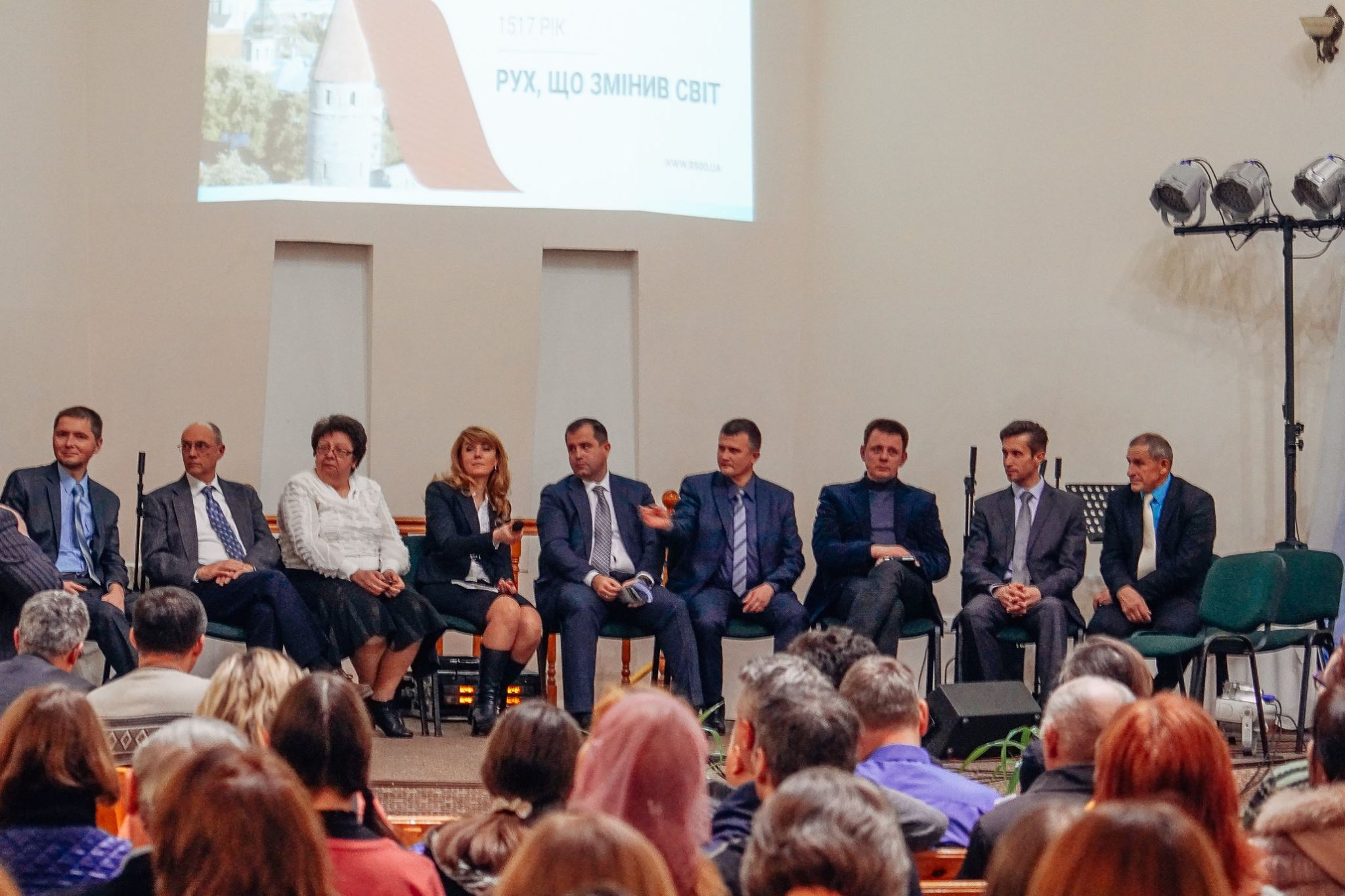 Details
It's a HOT summer in Kiev this year! And there's plenty of action: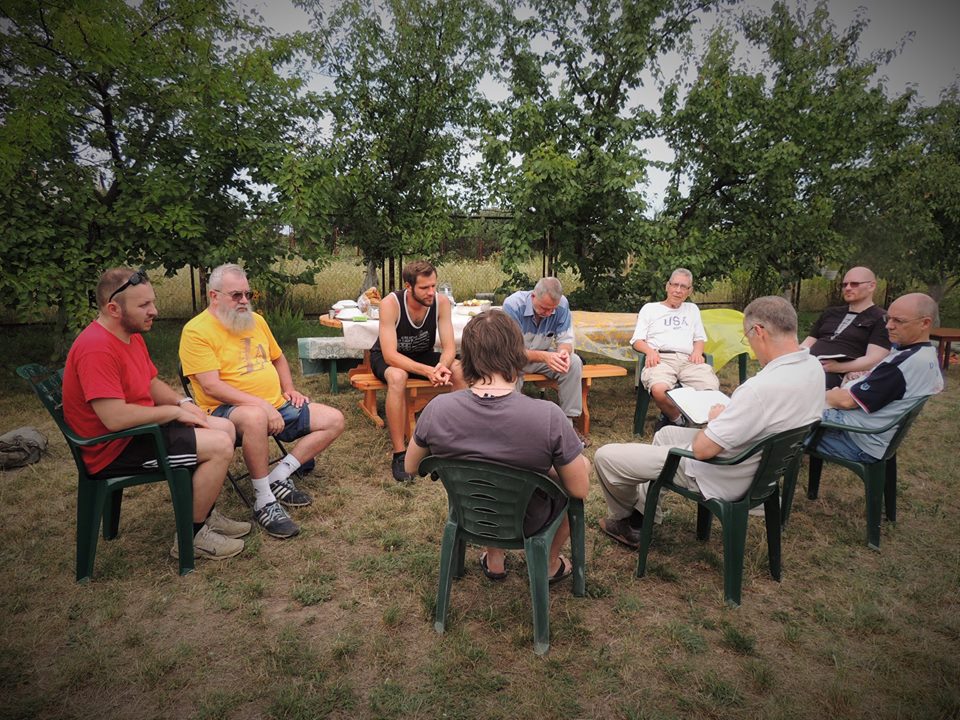 The Holy Trinity Presbyterian Church of Kiev had a women's picnic in mid-July and a men's picnic with a study of Samson from Judges 14-16. On both occasions they had masterful preparation of borscht and shish-ka-bob (called 'shashlik'). This is the church where Clay and Darlene attend and help, and they got to take part in the picnics! Holy Trinity also had a Korean choir visit, not only participating in worship but helping with an evangelistic outreach in the city park. Holy Trinity continues to sing new translations and adaptations of the Psalms produced by church members.
Grace Reformed church, where ERSU graduate Sergei Nakul serves as pastor, has had a team here from the Netherlands - Blagodat Kiev Dutch team 2016.jpg – helping them reach out to their surrounding community, in the church building they just opened a year ago. The team also helped them finish the external stucco and build a swing-set
Big City church and Liberty Church plant are putting on two English camps this summer with the help of teams from the UK and Texas.
Details
Post from Clay: I Preached in church service in Nikolaev, Ukraine, Sunday, where ERSU Seminary graduate Zhenya Minin is pastor. Smooth overnight train ride. I'm staying a couple of days to speak in University and at city-wide celebration of the Reformation 500, where I'm a speaker. It was attended even by the state governor and a Parliament member who is a believer! It's so exciting to see UKRAINIANS wanting to transform their country – the Reformation isn't dead yet!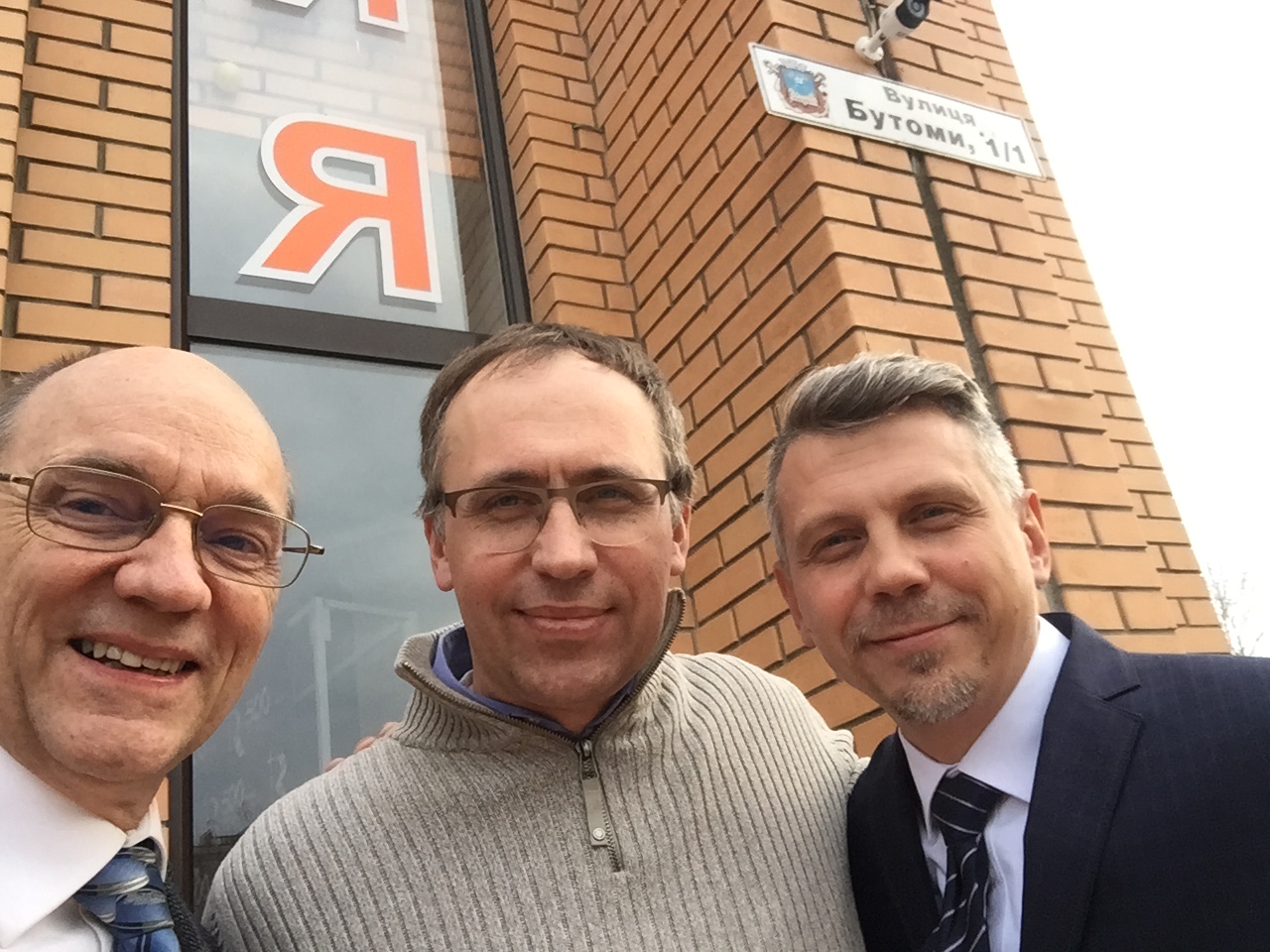 Details
Summer Season
Summer should be sunny and bright. But Clouds of War continue gathering in the East, and the whole world seems in turmoil. Whatever the seasons in our lives, however, we are to be faithful: "Preach the Word… In Season and Out of Season" (2 Tim 4:2).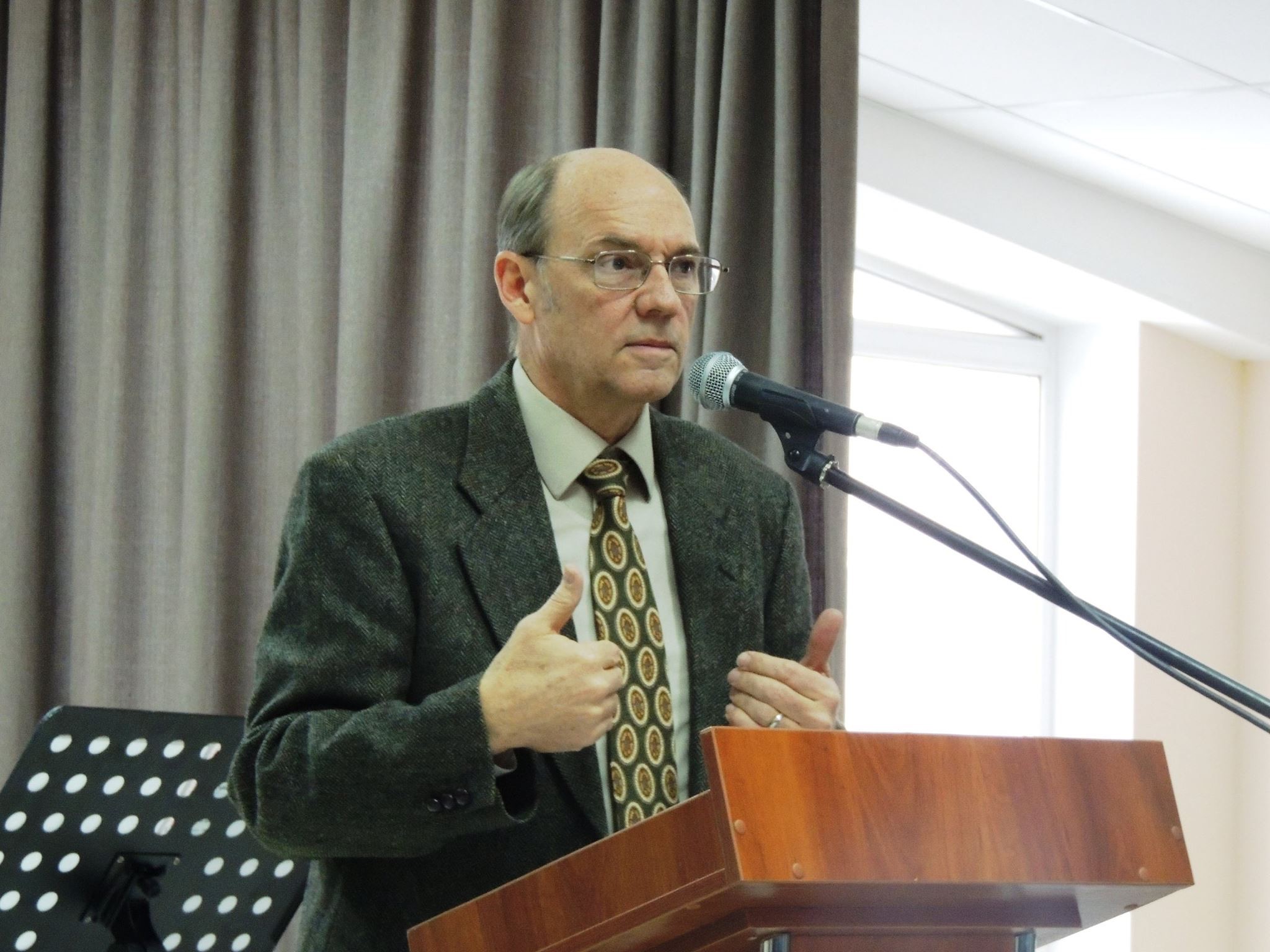 In Season – This is the Regular Ministry: Preaching and teaching goes on apace. Clay is no longer President of seminary, so he's free to develop Christian Education and to consult on Women's Ministry. Seminary duties continue: grading, keeping up with students, preparing to teach fall classes, Board and Staff meetings, Graduation, team care, occasional preaching in our local church, and traveling to Poland to teach the whole Book of Acts in one week!
Marriage seems to be in season, as several of our students and church members are tying the knot. Hooray! May the Lord raise up more covenant families! Darlene took July to help family in Jackson, and we may come on Home Ministry Assignment in winter.
 Out of Season – These are the sometimes odd opportunities that arise in the midst of our faithful service:
-    Doing Egg Toss and  singing "Proud Mary" at English Club, which led to side discussions and individual sessions. These led to further Discipleship meetings, correcting aberrant internet teachings on divorce and remarriage. Some students have received Christ and are coming to church!
 -    WAR has brought upheaval to many. We visited Refugees in Odessa and Syrian refugees in Poland. We got to know refugee families in Kiev. Will the Russian War come further west? Seminary student Sasha moved from the East to central Ukraine, so he decided to plant a church there! Clay is consulting. Just as in the book of Acts, God even uses evils such as persecution and war to spread his Good News. New Student Mikhail told Clay in his intake interview that military service led him to seek the meaning of life, leading then to church and to faith. This is a day of opportunity! Please PRAY.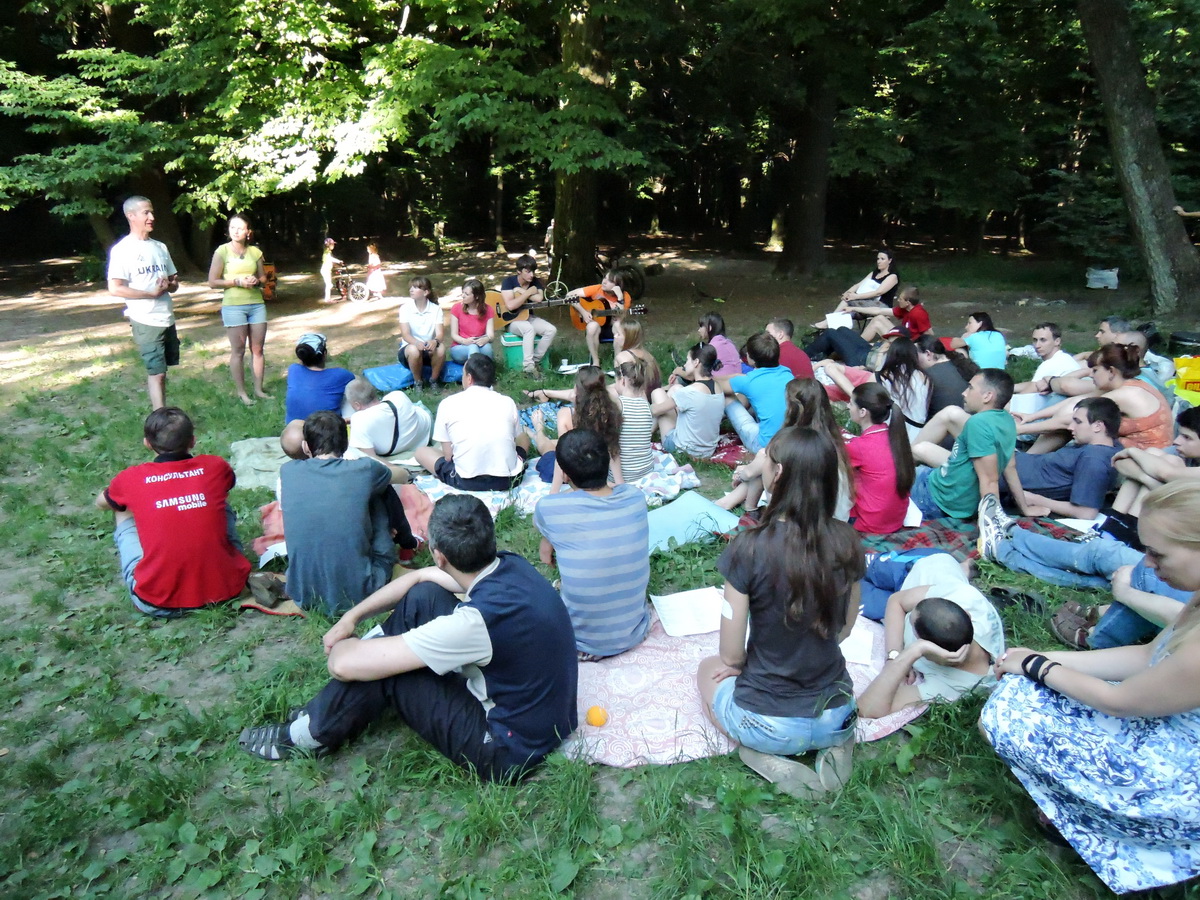 -    Meetings with refugees, Chaplains, and PTSD counselors tell us that many Christian Pacifists end up at war, struggling to connect duty to country and family with their theology. So, we dedicated an issue of the ERSU Seminary Journal to this, and Clay contributed "Christian Ministry in Time of War".
Ukraine continues her struggle for Freedom. But her real and eternal hope is only in Jesus! Thanks for your prayers for Ukraine! 
Clay & Darlene Quarterman, 
Kiev, Ukraine
Details